YOUNG RUMENCO HEADQUARTERS
Building the Education of the Future
Trinity Learning Innovation Labs
Design as a tool for Innovation
During the last 20 years the South of Mar del Plata has grown and today has six gated communities, either completed or under construction. To provide services in this new area of the city, Holy Trinity College proposes a new educational project that will be based in "Estación Rumencó"
The challenge of building a new headquarters allows for state-of-the-art building facilities. It is an opportunity to create new spaces, rethink their functionality, and imagine the implementation of new pedagogies and the school organization necessary for them to prosper.
The proposal consists of a modern learning environment with state-of-the-art facilities. The design of spaces has a fundamental function in the implementation of new pedagogies. It aims to arouse curiosity and maintain motivation, encourage the desire to learn and prioritize the game as a learning strategy.
The Kinder, with the iconic design of the renowned architect Jefrey Berck, initially surprises with its exterior: a large glazed oval with a futuristic image. It is slightly elevated on the ground. It consists of double-height ceilings worked with beech-colored wood, which embrace a central hall, which constitutes an internal patio.
The exterior gardens and interior areas were created and designed to favor active play in landscapes that emulate our city: the mountains, the beach and the sea. Likewise, the interior floor is a journey through paths with attractive colors that draw maps and hide paths of secret treasures. All these resources are motivating playful elements.
The interior is revealed as a large room monkey. Its simple lines with warm colors and acoustic clouds outline the central volume of a plant, transparent, structured and green, immersed in nature and surrounded by easily accessible gardens that allow direct access to the outdoor play areas.
The interior design begins in the universe of modular classes, which are called "nests". With flexible openings, "the nests" are easily integrated into the "Functional Landscapes" of the central areas and serve as scenarios for different activities. These landscapes equipped with attractive and well graded didactic material refer to the real world environment. Thus, the city is represented; the market ; the forest; the sea, the beach and the mountains where through play the children build their own learning.
To this end, the spaces emulate a surprising Park or "Playground" where group, collaborative and individual game activities are generated. In this framework and guided by their teachers, the children navigate through these functional educational landscapes actively engaged in their learning and with a high degree of motivation.
The integration of "nests" and educational landscapes constitute a pedagogical tool that transforms spaces into a privileged environment for exploration, introspection and discovery. Each landscape has differentiated educational material for specific purposes and is linked to the Interdisciplinary units of the International Early Years Curriculum: a recognized and internationally prestigious program.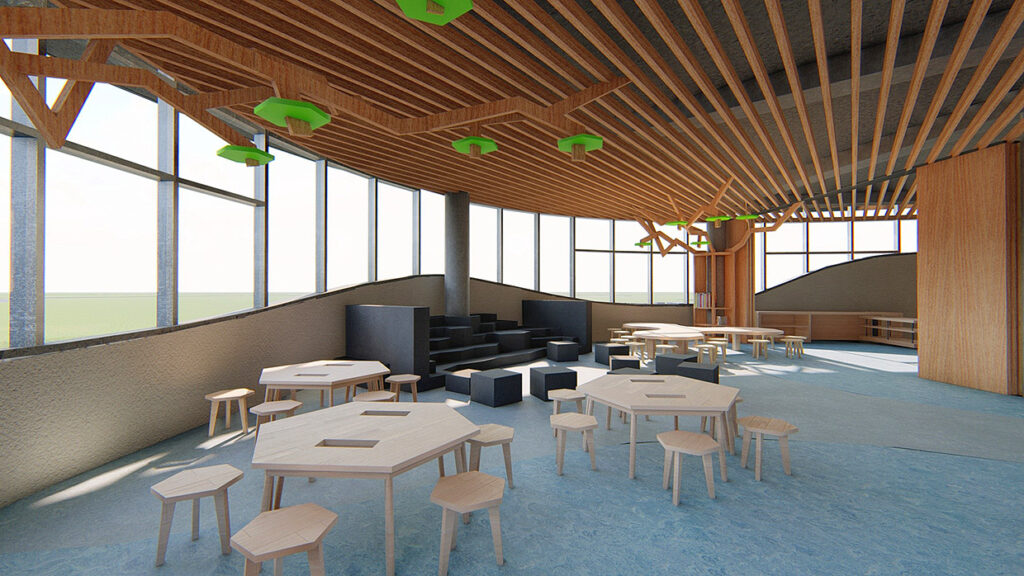 The game is used as a daily learning tool to awaken imagination, creativity and empathy. Through these activities the children explore and discover the real world, they connect with objects, animals, structures and people. Likewise, they elaborate notions of space, time, mathematics and all the areas of their development. They engage in endless and complex social interactions and communication experiences that they must know to perform well in the next stage of their school life.
Project Characteristics: Learning Innovation Center
Premium facilities built for educational purposes
Spacious and bright flexible environments
Outdoor spaces designed for educational uses.
Educational Landscapes: Functional Interior Spaces.
Bilingualism: 50% in English and Spanish
The Game as a tool for discovery and exploration
Active, parallel, interactive, regulated, free and solitary game
Google Lab: cutting-edge technology
Robot world: Robotics and coding
Maker Space / hands on: experimental and creative, artistic and musical activities
Health, Nature and Movement in an environment created for these purposes
Wide range of activities and experiences that nurture development
Flexible schedules
Curriculum : Learning Innovation Lab
Innovative Interdisciplinary Pedagogy
The Kinder Trinity Rumencó Lab is an innovative proposal that offers a balance between cutting-edge design, a prestigious international Curriculum – IEYC- and a personalized Pedagogy that serves as the basis for the future personal, social, emotional and intellectual development of children.
The brain doubles in size in the first year of life, and by 3 years of age it reaches 80% of its adult volume. The experiences that children have during this stage have a great influence on their future development and learning, which is why Trinity College has created the "Learning Innovation Labs", a space designed to create children who are happy, healthy and interested in learning. The program stimulates creativity and curiosity, creates a strong foundation for bilingualism, and incorporates physical activity and interaction with the natural world in custom-designed indoor spaces and outdoor play areas.
The boys approach the world with curiosity. They are encouraged to ask questions about their environment and explore the answers to those questions. In classes that take place in different science settings outdoors or on farms or at the beach, kids gain an appreciation of nature and begin to develop a scientific understanding of the world. Trinity Kindergarten focuses on helping children make the transition from their home environment to a school environment.
Learning to express and understand emotions is an important part of social-emotional development at this stage. The boys are learning to recognize their feelings and navigate different social situations. To help them identify and develop appropriate responses to their feelings, teachers guide and work through units on emotions, which focus on six basic feelings: feeling happy, sad, angry, surprised, scared, and excited.
Language development is essential. Boys develop comprehension strategies for reading and begin to analyze stories and characters. Social-emotional development accelerates as children take a more active role and gain an understanding of differences and accept the possibility of taking turns. Literacy and writing is emphasized and taught through those stories. Through an international curriculum designed specifically to articulate with higher International programs, the boys explore scientific concepts such as the human body, the seasons and the great inventions and global problems. In math, they work with solid shapes, different combinations of numbers, and adding coins to develop their mathematical thinking in English and Spanish.
IEYC : A Bilingual and International Curriculum
It is implemented in 160 schools around the world and in 47 countries. It constitutes a framework for children from 2 to 5 years old. It is taught bilingually and reflects the best international practices
Characteristics
Captures Curiosity/ Child-centered
Inter-disciplinary learning/ Holistic inquiry
Hierarchize the Game / Play-based approaches
Promotes social, personal and emotional development / Personal, social and emotional development
Promotes knowledge and skills / Knowledge and Skills development
Offers Thematic Units/ Thematic Units
These holistic thematic units that focus on exploration, curiosity and discovery aim to develop children's language skills, creative expression, physical well-being as well as personal, social and emotional development.